George Corkery, Jr: In His Own Quiet Way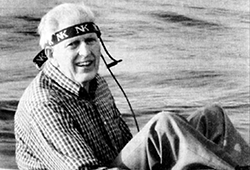 George shared his passion to help others by leaving Prep in his estate plan.

George Corkery believed in Catholic education. He recognized the value of a Jesuit education at Prep. Although George had no close ties to Prep, he knew of the Craig Alan Corkery Endowment Fund that his brother and sister-in-law established after the death of their son in 1970. The endowment provides tuition assistance for students to attend Prep. It was to this endowment that George left $500,000 upon his death last year. His brother, Jack, had no idea that he was leaving Prep such a large amount. "George didn't want to bring attention to himself — he did things for others in his own quiet way" said his sister-in-law, Vada May Corkery.

George was an avid sailor, expert sailboat racer and passionate rower. He loved the water and spent most his days after retirement at either the Corinthian Yacht Club or Mount Baker Rowing and Sailing Center. He gained not only a reputation for his quality in sailing and rowing skills, but his help over the years making repairs on boats, sails and oar locks. He would make all the repairs at his Mount Baker home in the basement workshop, often sewing late into the night to repair a sail. Jack smiles as he describes his younger brother: "It made George happy to quietly help others. He had very simple needs himself. He always liked to do something for those in need, not for himself."

It was in the same quiet manner that George left Prep in his will. He did it without the desire for recognition or thanks. He did it to make a difference to those in need, giving students the opportunity to have a Jesuit education at Prep for years to come.