The McHugh Legacy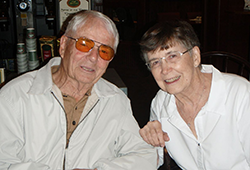 "The best investment my husband and I ever made was investing in Seattle Prep. It was the one investment that no one could ever take away and one which would continue to give back for generation to come."
-Ella McHugh

The McHugh legacy at Seattle Prep expands over four generations. It all began with a phone call on February 21, 1919 by T.C. McHugh to Father John McHugh (no relation) regarding his intent to make a charitable donation. T.C. McHugh was a successful entrepreneur and devout Catholic who had made "a promise to God" to give $50,000 to a charity after selling his interest in the Deep Sea Cannery Company. Under the counsel of Father John McHugh, he decided to help the then struggling Jesuit Seattle College. As luck would have it, it came to T.C. McHugh's attention that Adelphia College, a Swedish Baptist property, had recently been foreclosed. This was the opportunity T.C. McHugh needed. He began negotiating with the banks to purchase the property. After consulting with his wife, Ella, and selling his war bonds and other liquid assets, T.C. offered $65,000 in cash and short-term pledges to purchase the property.

The deal was completed and on December 7, 1919 Bishop O'Dea presided over the dedication of Seattle College's new campus.

Over the years, the McHugh family has continued to support the mission of Seattle Prep. A family named endowment, the T.C. and Ella McHugh Endowment, was set up in 1992 by Ignatius (Nace) McHugh '39, in honor of his parents to provide tuition assistance to those most in need. "Nace saw the value in starting an endowment that would live on for future generations," said his younger brother, Charles McHugh '42. Currently there are 46 family named endowments in addition to the general Prep Endowment Fund. These endowments helped provide $947,350 in tuition assistance this past school year to over 22% of the student body.

At a recent McHugh gathering, family members shared their stories of Seattle Prep. "Everything my grandfather had, he gave to Seattle Prep" said Tucker McHugh '67. T.C. McHugh passed away in 1934. "The one thing which could not be taken away from him was his investment in Seattle Prep. It was the best investment he ever made."

The McHugh legacy to honor T.C. and Ella's "promise to God" continues today. Future generations have pledged to continue their support of Seattle Prep and its mission of Jesuit education.