Greg Rockwell '62: Lessons Learned from a Prep Education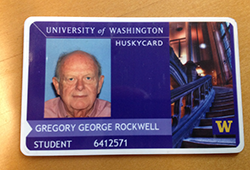 Greg Rockwell '62 summarized four simple lessons from his time at Seattle Prep:
1. Obtain an education.
2. Get a job.
3. Be accountable and responsible for yourself.
4. Help others.
On the day of our conversation, Greg had just finished taking a Computer Science class at the University of Washington. A lifelong learner, in the last few years, Greg has also audited courses in philosophy, finance, orchestral music, anthropology, astronomy and Modern Irish History. These followed diplomas from Seattle Prep (1962), Stanford (BA, History) and Willamette (JD).
"I had the privilege of going to school for twenty years. Seattle Prep was the best four years of my life." According to Greg, learning is mandatory. "Intellectual curiosity is a gift," he shared, quoting from a professor at Stanford.
Before he attended Prep, Greg had never even met a Jesuit. Today he shares a ministry of service with these men, and with many Prep alumni. He outlined his philosophy during a speech to the Class of 2006, upon receiving the Distinguished Service Alumni award:
This (award) is really is more about Seattle Prep than about me or any individual who is honored to receive it. I say this because Prep has been in the service business for over a century, educating young men and women with the Christian value system of St. Ignatius that has endured for over 450 years.

There will always be unexpected change in your lives. There will be joys and happiness, there will be sadness and disappointment and the journey will not always be as you have planned or may have hoped for. But one thing that will never change is the opportunity to be of service to your fellow man.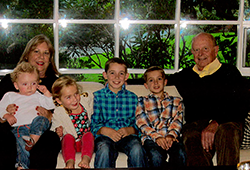 Greg continues a full-time law practice today, at age 70. "A Jesuit education is constellation of values, and at the center is service to others. Ignatian education is about creating men and women who are aware of the needs of other human beings. You can never retire from the opportunity to help others."
"Jesuits never retire," he observed. "They just move on to another mission. Look at Fr. Paul Fitterer, SJ, who turns 84 in April and counsels Prep students and faculty; Fr. Frank Case, SJ, VP of Mission and Ministry at Gonzaga University, age 77; Fr. Pat O'Leary, SJ, who turned 85 in March, is Rector at Seattle University. Ignatian education as exemplified by these men is lifelong service to others."
Part of Greg's mission includes his law practice and service to others. He runs errands for elderly neighbors and visits former classmates who are in need. "Service is an awareness of who is in need. It's about focusing your lens on the broader world and not on yourself. Consider other's needs rather than my wants. Service can be just holding someone's hand; just one word: kindness or presence."
"The Creator has given us many gifts. Service is not optional. That's how I choose to live my life. I know not everyone will make the same choice."
He was instrumental in establishing the Class of '62 endowment with John Bianchi '62 (see facing page). Greg has also chosen to include Seattle Prep in his estate as a beneficiary of a life insurance policy to ensure Prep will graduate more men and women with a calling for service. "Gift is an expression of God's grace. The gift is in the willingness to give, the gesture; not the amount of zeros."
"Support of Seattle Prep endows an educational experience that's grounded in a values system that helps young men and women understand the need in their life to be of service to others." Mark 10:45 – The Son of Man came not to be served, but to give His life as a ransom for many.
"Students need to ask themselves, 'Why am I here?' It's a much bigger picture."
---
Why are you here? What did Prep teach you?
Share your response at
https://www.facebook.com/SeattlePrep
---
Help Prep teach Jesuit values for another 100 years through a planned gift
You can make Prep one of the beneficiaries of your life insurance policy, or gift an existing policy to Prep and make charitable contributions to the school each year which we use to pay the premiums. It's an easy way to ensure your values will continue to be nurtured in future generations of Prep students.
Visit
seaprep.giftlegacy.com
to learn more or contact Katrina Freeburg, Director of Planned Giving, at
[email protected]
or (206) 577-2237.