Fr. John Koehler: The quiet generosity of an avid mathematician and outdoorsman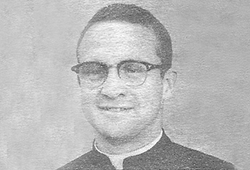 Faculty Portrait: Mr. John Koehler
(Published in the 1961 Prep Panther)
By Tom Robinson
One of the more mysterious figures at Adelphia is Mr. John Koehler, S.J., in spite of the fact he is a four year veteran here at Prep. Because of his outstanding mathematical ability, he interrupted his normal three year teaching period in order to pursue advanced studies in math at the U.W. There he has maintained an A average and hopes to get his doctorate at the end of the year. This is the reason for his limited appearance around school.
He taught here in '58-'59 and is teaching one class this year. Besides his busy schedule at Prep and the U.W., he also teaches part-time at Seattle U. during the summer.
Mr. Koehler, a native of Tacoma and a graduate of Bellarmine, took philosophy at Spring Hi11, Alabama rather than the usual Mount Saint Michael's in Spokane for Northwest Jesuits. At Spring Hill he had a better opportunity to take both philosophy and science courses.
Whenever it is possible, he often accompanies the Hi-Yu Coulees, the hiking club of Seattle U., on their ventures into the Cascades. He has gone around Mt. Rainier on a five day hike over the Wonderland Trail. His used fifty-cent army boots, he claims, have better than three hundred miles on them.
By turning out with the cross-country team, and walking to and from the U.W. daily, Mister Koehler keeps in shape the year 'round. After school he can usually be found either out on the lawn playing touch football, or in the gym engaged in a game of basketball - that is, when he is not working some five-page math problem.
Tagged as a "mysterious figure at Adelphia" by Tom Robinson '64 in a 1961 Prep Panther article, Fr. John Koehler was well known for his "outstanding mathematical ability," though advanced math coursework at the UW limited his time on the Prep campus. He taught at Prep for several years in the late 50s and early 60s as a Jesuit mister, while teaching at Seattle University in the summer. A quiet, unassuming man, he stood out from his colleagues for a number of reasons.
"Mr. Koehler was possibly the first geek or nerd many of us met," John Cannon '61 recalled fondly, before many of us knew what a geek was. "His hair was barely combed, his out of date glasses were lopsided, and his cassock looked slept in, bearing/boasting a generous dusting of chalk.
"He was modest and naive in his brilliance. Trying to distract him from his class plan, hoping he would forget to give us homework, I asked him, 'Mister, what kind of grades are you getting in those upper division math classes?' He seemed a little confused. 'Are you getting all As?'
'Of course,' he said.
I asked, 'Well, how do you ace all those tests?'
'Oh, I just turn them into little games and I always win.'" Fr. Koehler later earned a PhD in mathematics from UW.
Rick Markov '61 also praised Fr. Koehler's intelligence. "He was something of an anomaly in those days: we were discouraged to think about attending the UW (that bastion of atheist and liberal views), and yet Cozy* was going to school there for his PhD. He was reluctant to talk about it, but one day we got him started. Of course, theoretical mathematics was over our collective heads and I don't remember making any sense of it. I wish I had the opportunity to replay the tape from that day to see what I could understand now."
*"Fr. Koehler's nickname came from a popular drummer known as 'Cozy Cole,' and some irreverent types applied the name to Mr. Koehler," said Phil Sauntry '61, but other alumni say no malice was intended.
"Mr. Koehler taught me how to use basic skills to solve problems that were beyond my current study levels," Bill Taylor '61 extoled. "His help led me into mechanical engineering. He was a great teacher, helping students get an understanding of the basics of math."
Phil Sauntry '61 was more candid about his own aptitude for math. "If my memory is correct, Mr. Koehler, SJ had the sad task of trying to teach me Geometry sophomore year. It was more than should have been asked of anyone." Several alumni recall Fr. Koehler using a shoe lace to draw circles on the blackboard (in place of a compass).
His mild manner sometimes allowed students to get the best of him. "He taught the 2A geometry class and was among a subset of faculty with a truly very gentle spirit," shared John Griffin '61. "Among his qualities, I clearly remember that he was very kind, shy, and respectful. He was soft spoken. He seemed the antithesis of the Vice Principal whose roles included taking students to the boiler room for a paddle whack for some minor infringement of rules.
"My specific memory is that early during sophomore year, while writing on the blackboard, someone threw a paper ball that caught his eye. He promptly turned around and said, 'Come on, you guys, stop that!' in a soft spoken gentle tone of voice, a level of voice that no other teacher ever used. He was so upset that he stopped teaching for some minutes and told us to study our books for a while.
"Subsequently, the "boys" did take it easy on him as he was really different from most other teachers. I remember being struck by how classmates thought of him after that; some had more respect, while some seemed to think he was weak. I thought he was very bright but that he did not fit the profile of a Prep teacher since he was so sensitive. I admired and liked him very much."
Cannon remembered Fr. Koehler joining his family for dinner in their home several times a year. "My folks mentioned he was unlike any priest they knew. He never acted as if he thought he was special. He was an out of the mode Jesuit."
"He had a very wry sense of humor, was understated, but very likeable," Rick Markov '61 shared during a recent conversation with classmates.
Mick McHugh '61 echoed that sentiment. He was "extremely bright, somewhat of an absent minded professor; a really swell guy!"
Classmates Sauntry and Cannon agreed. "Probably the best evidence of his kindness is that I'm not still at Prep at age 73 trying to understand enough geometry to pass the tests and graduate. Actually, the same could be said of Jim Harney (Intermediate Algebra) and Fr. Burke, SJ (Chemistry)," wrote Sauntry.
He carried his affinity for students and connections with Prep alumni to the college classroom. Cannon continued, "I took calculus from Fr. Koehler at Seattle University. As Griff (John Griffin) and Markov mentioned, he was a kind soul. He told three of us class knuckleheads, 'There is no way you can catch up and pass this course, but if you come after class for a few days, I'll give you a chance.' He gave us just enough math insights to squeeze through. It was a big deal for us. Thanks for the break, Cozy!"
Gary Cummings '61 recalled seeing Fr. Koehler in Prep's hallways as a "very quiet, unimposing (figure) with a tiny smile as though he had an inner secret." Was his secret that some of his students would learn to love math as much as he did? Or that his gentle manner hid a competitive athlete?
While students may have been intimidated by his math prowess, many found a connection with Fr. Koehler outdoors and on the courts. His personality changed completely outside the classroom.
Guys recall Fr. Koehler offering tips to football players in the locker room or running with the track team. "He was an avid basketball player and wasn't bad either. He was very quiet, like a nerd, until he got on the court, then look out, he turned into a very different person!" shared Bill Bradley '61.
In the Prep Panther, Robinson wrote of Fr. Koehler hiking with the Seattle University Hi-Yu Coulees and completing a 5-day hike around Mt. Rainier on the Wonderland Trail. "He claimed his used fifty-cent army boots had better than 300 miles on them."
Brother Joe Robinson '59 was an avid member of the Coulees. "On almost every hike, Fr. Koehler would disappear. Pretty soon we'd see him on a nearby peak, searching for the best view to photograph the valley below."
After almost twenty years as a Jesuit, Fr. Koehler was incardinated in the Archdiocese of Seattle. As a parish priest, Fr. Koehler was assigned to St. John Vianney Parish in Vashon (see accompanying photos). Parishioner Richard Bianchi '61 recalled Koehler traveling around the world and continued backpacking throughout the West. For several years after Koehler left the parish, Bianchi continued to receive Christmas letters detailing his journeys.
The years at Seattle Prep must have made as profound an impact on Fr. Koehler as a teacher as it did on his students. When he passed away in 2013, Fr. Koehler left a bequest to Seattle Prep, which was placed in the Seattle Prep Endowment for tuition assistance. His generosity also benefitted students at Bellarmine Preparatory School and Seattle University, among others.
Current Board Chair and former Finance Committee Chair Dan Twining summarized the impact of Fr. Koehler's gift. "Fr. Koehler's bequest is a sign of his dedication and generosity and will help support the 25% of our students who receive tuition assistance. From the comments of former students, Fr. Koehler demonstrated a deep desire for students to learn and be successful both in and out of the classroom. His lifetime of ministry was a blessing to his students and parishioners and his influence will continue at Prep supporting tuition assistance, allowing students to continue to learn and succeed."